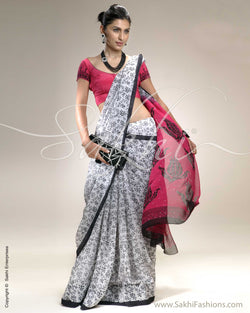 sakhifashionsin
SR-0228 Pink & White Georgette Saree
Ships in 45Days Georgette silk with a hand block print, featuring contrasting pink with black foral print in the pallu.
100% Georgette silk
Dry Clean Only
Special Hand block printing combining traditional motifs with graphic black & pink pallu
Crepe silks blouse

Material: Georgette Silk
This pure silk is a light weight fabric, perfect for an evening out or a sunny summer day. The effervescent Georgette is a light, sheer fabric with a rich shimmer and a mild, granular texture. The twist in the yarn creases the fabric gently in both directions, giving it a slightly textured feel. Sakhi mingles featherlike chiffon with different designs to create stunning sarees.

Craft: Hand-Block Printing
One of the earliest and simplest methods of textile printing, Block printing is, very simply put, the printing of patterns on textile using incised wooden blocks. Block printing involves myriad steps, but the most important step is the preparation of the block which determines the quality and clarity of impressions. The block is then dipped in the desired dye and carefully placed adjacent to the preceding impression of the block as per the design. Block print is popular across many Indian states, each region being known for its own, unique variant. Sakhi gives a contemporary twist to block print by combining modern graphic designs with traditional Indian motifs. The key differentiating elements of the designer ensemble are the hues used in varied colour themes.
* Please note the blouse worn by the model is a fashion suggestion and is available with a Sakhi saree. However, every Sakhi saree comes with complementary blouse fabric in this case contrast pink crepe silk blouse with border detailing in block print*.
SAREE PETTICOAT MEASUREMENT
X
Please provide us your Custom Petticoat Size to ensure a good fit.
SAREE BLOUSE MEASUREMENT
X
Please provide us your Custom Measurements to ensure a good fit.