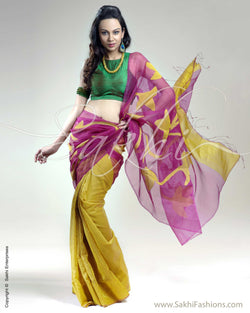 sakhifashionsin
SR-0233 Violet & Yellow Matka Silk Saree
Ships in 45Days Matka silk handloom concept saree with an elaborate floral design on kora pallu,
100% Pure Matka silk
Dry Clean Only
Hand woven Matka silk woven with Kora silk
Elaborate Pallu featuring bold floral motif on the pallu and shoulder
Material: Matka Silk
This is a mild handloom fabric is woven by skilled weavers in Kolkata, India. Matka silk is 100% pure silk, wherein the yarn in the warp is silk yarn, while the yarn in weft is obtained from the cocoons that are cut open by the moths as they emerge. By varying the amount of yarn used, the texture and thickness may be modified, Sakhi ensures the right grammage so that the saree has a mild stiffness and drapes like a gown. The saree features a dual tone in pink with elaborate floral motif in contrast lime yellow.
* Please note the blouse worn by the model is a fashion suggestion is available with this Sakhi saree.
SAREE PETTICOAT MEASUREMENT
X
Please provide us your Custom Petticoat Size to ensure a good fit.
SAREE BLOUSE MEASUREMENT
X
Please provide us your Custom Measurements to ensure a good fit.