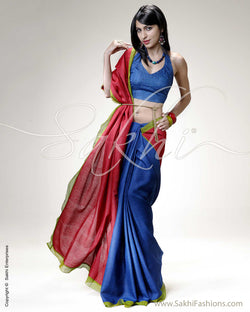 sakhifashionsin
SR-0234 Concept Tussar Sari
Ships in 25days Colourful tussar silk saree in a unique concept design half n half pattern, in Red Blue and Green shade. 
100% Pure Tussar Silk
Dry Clean Only
Concept Designer saree- Half n Half Concept
Contrast blouse fabric in blue
The saree features brilliant colours of spring summer Red, Blue and Green. Dori tussar silk fabric is a delicate pure hand woven silk, highly valued for its purity and linear weaving texture. Having worked with a team of weavers in Chattisgarh Sakhi's designer Chandra has introduced Dori Tussar fabric wherein cotton fibers are woven along with Tussar Silk to create an easy to drape and handle fabric, the modern interplay of bold colours and unique design concept makes this saree a treasure.
* Please note the blouse worn by the model is not available with this Sakhi saree the saree is accompanied by matching Tussar Silk fabric in Blue hue (like the Pallu), and if you wish for a custom made classic style blouse please select from the Saree Finishing Packages. Please note there might be a slight colour variation. 
SAREE PETTICOAT MEASUREMENT
X
Please provide us your Custom Petticoat Size to ensure a good fit.
SAREE BLOUSE MEASUREMENT
X
Please provide us your Custom Measurements to ensure a good fit.