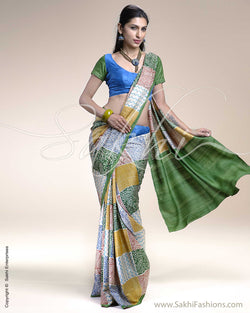 sakhifashionsin
SR-0244 Green & Blue Tussar Silk Saree
Ships in 45Days Elegant tussar silk saree in a unique concept featuring Reversible pallu and blouse, featuring mutli color checks Hand block print design . 
100% Pure Tussar Silk
Dry Clean Only
Concept Designer saree- Reversible Concept
High quality hand woven Tussar silk
Material - Tussar Silk
A delicate pure hand woven silk, highly valued for its purity and linear weaving texture. Tussar silk is drawn from cocoons especially cultured on Arjun, Saja or Sal trees. Tussar silk is available usually in natural shades of muted gold and mild beige but this saree features a mix of vibrant colours giving the mature and somber Tussar silk a touch of youth. Tussar silk is considered ideal as well as auspicious for marriages, religious ceremonies and other functions.
Craft: Hand-Block Printing
One of the earliest and simplest methods of textile printing, Block printing is, very simply put, the printing of patterns on textile using incised wooden blocks. Block printing involves myriad steps, but the most important step is the preparation of the block which determines the quality and clarity of impressions. The block is then dipped in the desired dye and carefully placed adjacent to the preceding impression of the block as per the design. Block print is popular across many Indian states, each region being known for its own, unique variant. Sakhi gives a contemporary twist to block print by combining modern graphic designs with traditional Indian motifs. The key differentiating elements of the designer ensemble are the hues used in varied colour themes.
* Please note the blouse worn by the model is not available with this Sakhi saree ,the saree is accompanied by matching Blue or Green Tussar Silk fabric and if you wish for a custom made classic style blouse please select from the Saree Finishing Packages. Please note there might be a slight colour variation.
SAREE PETTICOAT MEASUREMENT
X
Please provide us your Custom Petticoat Size to ensure a good fit.
SAREE BLOUSE MEASUREMENT
X
Please provide us your Custom Measurements to ensure a good fit.