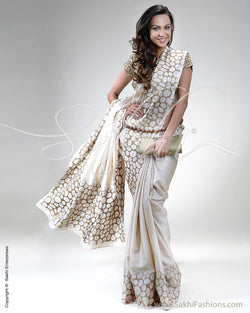 sakhifashionsin
SR-0245 Biege & gold Tussar silk saree
Ships in 10days Natural Tussar Silk saree in its sophisticated beige hue featuring Polka embroidery, detailing kundan work border on pallu and blouse .A delicate silk, highly valued for its purity and linear weaving texture. This silk is drawn from cocoons especially cultured on Arjun, Saja or Sal trees. Having worked with a team of weavers in Chattisgarh Sakhi's designer Chandra has introduced Cut work with Brown tissue appliqué as part of latest collection.
This unique form of hand embroidery involves re-creating heritage jewel motifs adorned by Indian royalty. Colured stones are secured on the fabric then finished with hand embroidery technique called Zardozi work to create an element of luxury to add glamour and old world charm to the modest saree.
Colour: Beige,brown | Material: Tussar silk | Craft: Embroidery
Wash Care: Dry Clean only
Occasion: Casual, Work, Summer, Festive, Wedding.
Please note the blouse worn by the model is a fashion suggestion and is not available with this saree a matching running Beige Tussar Silk blouse with Embroidery for sleeves is available with this Sakhi saree and if you wish for a custom made classic style blouse please select from the Saree Finishing Packages. Please note there might be a slight colour variation
SAREE PETTICOAT MEASUREMENT
X
Please provide us your Custom Petticoat Size to ensure a good fit.
SAREE BLOUSE MEASUREMENT
X
Please provide us your Custom Measurements to ensure a good fit.