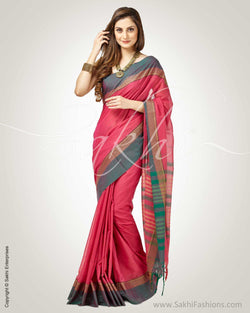 sakhifashionsin
SR-0745 - Pink & Green Pure Cotton Saree
Ships in 30Days Handwoven is almost a forgotten art in today's modern day. We urge craft lovers to promote the artisan community so that the indigenous Indian craft can be passed on to the next generation. This ethnic form of handloom weaving originates from Hubbali region in Karnataka in South India. In this artistic expression you can find muted pink contrasted by classic Green and Beige. The saree comes with running contrast green cotton blouse. You can find many celebrities like Vidya Balan, Kareena Kapoor, Sonam Kapoor, Shabana Azmi supporting Indian craft revival and wearing Handloom creations. Terracotta handcrafted jewelry goes beautifully with these earthy handwoven creations; be sure to accessories right. Wash Care: Dry Clean only *If you wish for custom made Blouse please select from the Saree Finishing Packages. Note there might be a slight colour variation."
SAREE PETTICOAT MEASUREMENT
X
Please provide us your Custom Petticoat Size to ensure a good fit.
SAREE BLOUSE MEASUREMENT
X
Please provide us your Custom Measurements to ensure a good fit.