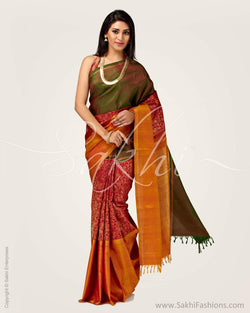 sakhifashionsin
SR-0751 - Red & Mustard Pure Kanchivaram Silk Saree
Ships in 30days Classic and timeless Kanchivaram silk saree, also known as Queen of all silks is a product of many days of hardwork by skilled almost extinct handloom weavers from the famed Temple town of Kanchipuram in Tamil Nadu. This unique designer saree features tall border concept in that Green and Mustard as ganga Jamuna border and the body features Red pure Zari "Vanasingharam" woven details. The saree features motifs inspired by Flora and Fauna portraying celebration of life in forest. At Sakhi we strive towards indigenous India crafts becoming more relevant in todays modern times thereby ensuring they are appreciated by generations to come. Help us support the artisan community in India, by wearing Indian crafts with élan, you are sure win compliments galore. Look Stylish and Elegant In this designer saree. Wash Care: Dry Clean only *If you wish for custom made Blouse please select from the Saree Finishing Packages. Note there might be a slight colour variation.
SAREE PETTICOAT MEASUREMENT
X
Please provide us your Custom Petticoat Size to ensure a good fit.
SAREE BLOUSE MEASUREMENT
X
Please provide us your Custom Measurements to ensure a good fit.