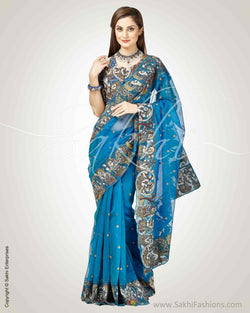 sakhifashionsin
SR-0755 - Blue & multi pure Organza silk saree
Ships in 30Days Crisp Organza Silk in two tone peacock blue featuring Sakhis sepciality CutWork. Our new creation celebrates Kalamkari and Cutwork with just a touch of hand embroidery. The unique combination of these exotic Indian crafts makes it most exclusive and most sought after. You are sure to win compliments galore with this creation. The Kalamkari detailing features figurine inspired by mythology, flora and fauna. At Sakhi we strive towards indigenous India crafts becoming more relevant in todays modern times thereby ensuring they are appreciated by generations to come.
Colour: Blue,multi | Material:  Organza silk | Craft: Cutwork,embroidery
Note: If you wish for custom made Blouse please select from the Saree Finishing Packages.There might be a slight colour variation.
Occasion: All day saree, Work wear, Functions.
SAREE PETTICOAT MEASUREMENT
X
Please provide us your Custom Petticoat Size to ensure a good fit.
SAREE BLOUSE MEASUREMENT
X
Please provide us your Custom Measurements to ensure a good fit.