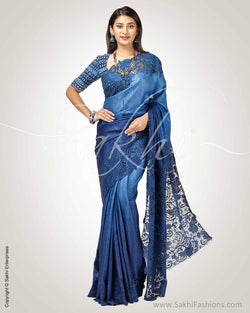 sakhifashionsin
SR-0791 Blue Tussar Cutwork
Ships in 30Days Sakhis sought after Tussar Silk CutWork in shaded blue , light to dark tone is sure to win you compliments galore. Usually Tussar Silk is crisp and difficult to drape but this classic silk is made supple at Sakhi with a special colouring and polishing technique. The saree is hand shaded from dark to light and features elegant tone on tone Cutwork for border and pallu. The saree comes with 2 unique blouse fabrics, self running Blue Tussar & Tabu printed pure cotton blouse as shown worn by the model, Please note the print is subject to change. Stay 6yards ahead in this designer saree. We are sure you will make heads turn. Wash Care: Dry Clean only *If you wish for custom made Blouse please select from the Saree Finishing Packages. Note there might be a slight colour variation and the print on the blouse fabric may vary.
SAREE PETTICOAT MEASUREMENT
X
Please provide us your Custom Petticoat Size to ensure a good fit.
SAREE BLOUSE MEASUREMENT
X
Please provide us your Custom Measurements to ensure a good fit.